Welcome
to the Mull of Galloway,
Scotlands most Southerly point.
Perched on the Mull of Galloway cliff top, Gallie Craig Coffee House is a small family
run business with breath-taking views overlooking Luce Bay, Ireland & the Isle of Man.
This is a unique experience you won't want to miss. The building has a turf roof to blend into
the landscape, ensuring minimum impact on the area but giving our customers the opportunity
to enjoy the beauty of the Mull of Galloway with a cuppa at hand.
Saturday to Wednesday – 10:30am to 4:30pm
Thursday and Friday – Closed
Closed December and January
Menu
We have an extensive
range of home cooked
food to tempt you.
Gift Shop
We have an extensive
range of gifts in our popular
gift shop for every occasion
or event
Attractions
Our main attraction is the
Mull of Galloway Lighthouse
situated just a stones throw
away from the restaurant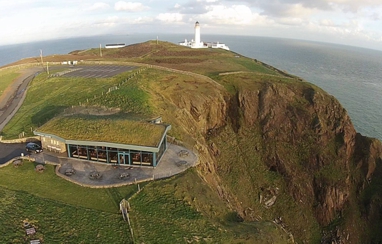 Our family have farmed this area for many years…
It is here in this magnificently beautiful landscape
that we designed and built our environmentally
sensitive building. Recently featured on 'Grand Designs',
the award-winning structure is topped with a turf roof,
which blends into the landscape.